Monica Seles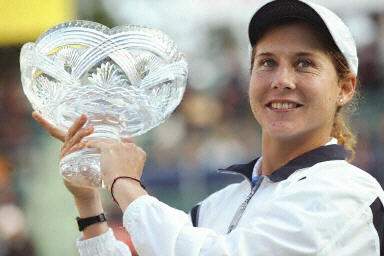 - The Hong Kong Ladies Challenge -
This is my Martina Hingis website, but I must add a page about Monica Seles. Why? oh! for she really is a wonderful great great tennis player in WTA world, I knew her in long long time ago, when I don't knew who is Martina Hingis, I knew who is Monica Seles. she is a nice woman, I love her skillful tennis very very much!!
In 2003, January, she came to my country - Hong Kong and won in final. I was so so happy and took her autographics, now I share to you all. :)
Martina Hingis now injure and cannot play 2003 Aus. Open, I hope Moncia can win win win and good luck in Aus.Open!!
Cheers, Yuki Holland

heehee, I was taken by a newspaper when I got Monica's Autograph!

I got three autoraphics from Monica, one in a poster,others are on programme's cover & inside.
by Yuki Holland - January 2003
---
Profile
Monica Seles
Birthdate: December 2, 1973
Turned pro: 1989
Birthplace: Novi Sad, Yugoslavia
Residence: Sarasota, Florida, USA
Height: 5'9 1/2" (1.77m)
Weight: 130 (59kg)
Plays: left-handed (two-handed both sides)
Highest singles ranking: 1
Current ranking: 5Quick Facts; Career Highlights

After a 27-month absence due to stabbing by a crazed German fan, returned to WTA Tour with a win at the 1995 Canadian Open; 6-0, 6-1 win in final over Amanda Coetzer broke record for least number of games played in final; title was 33rd of her career
Upon her return, Tour provided Seles with co-No. 1 ranking (with Steffi Graf) for her first six tournaments or 12 months from the date of her first tournament

Seles' 32 titles as a teenager is third-most ever, behind only Chris Evert and Steffi Graf
Undisputed World Champion in 1992; also undisputed World Champion 1991
Won seventh Grand Slam singles title at 1992 U.S. Open in just 13 events, second fastest in open era behind Margaret Court (seven titles in ten events)

With win at Barcelona in 1992, broke Tracy Austin's record as youngest player to achieve 25 singles titles
Reached final of all but one tournament in 1991 and 1992; also reached final of both tournaments played in 1995
Was named 1991 Associated Press Female Athlete of the Year; won award again in 1992
Named 1995 TENNIS Magazine Comeback Player of the Year;
Became a U.S. citizen in Miami, Florida on March 16, 1994

Career Stats
Monica Seles was born on Dec. 2, 1973 in Novi Sad, Yugoslavia. She now resides in Sarasota, Florida. She is 1.79m (5'10 1/2) and approx. 65kg (145 lbs). She plays left-handed(two-handed both sides). She has won 41 singles titles including 9 Grand Slams. Monica was born on December 2, 1973 in Novi Sad, Yugoslavia and currently resides in Sarasota, Florida. Monica resumed her career after more than 2 years on the sideline recovering from physical and emotional scars resulting from her April, 1993, stabbing at a tennis tournament in Hamburg, Germany. Although she is only 24, Monica Seles has already won 9 Grand Slam singles titles including 2 consecutive U.S. Open titles, 3 consecutive French crowns and 4 Australian Open titles. In 1991 and 1992, Monica was the Number One ranked player in the world, the youngest player in tennis history to be the top-ranked player. Monica returned to tennis in 1995, winning the Canadian Open, before she lost to Steffi Graf in the finals of the U.S. Open. Losing after a courageous battle which saw her take the second set 6-0.

In 1996 Monica blizted the field at the Sydney International and the Australian open to retain her unbeaten record down under. Although there was the absence of Graf, Monica still played excellant tennis and didn't loose a set throughout the whole open. Throughout `96 Seles won at Eastbourne on Grass, Montreal on Hard and at Tokyo which was also on Hard. Seles was runner up at the US Open where she lost to Graf and slipped to the ranking of number 2.
1997 could be described as the year that wasn't. For the first time since her rookie year, Seles did not reach at least one Grand Slam final. With the dominance of Hingis and the absence of Graf, Seles fell to Hingis on four occasions. Three of them at finals of tournaments and one at the semi-final of the French Open. In `97 Monica won three titles but all in the absence of Hingis and Graf. She won at Los Angeles, Toronto and Tokyo.

1998 saw Monica start on the wrong foot, missing the Sydney International and Australian Open because of personal reasons, Monica's first tournament was the Lipton Championships at Key Biscayne where she was ambushed in the third round by teen sensation Anna Kournikova. At the post match conference, Monica stated that she had lost the timing and confidence that she once had and the result of no playing in two and a half months.

Personal probles have loomed large as well. Even before she turned to the Tour, part of Moncia's mind was alwaus with her cancer-stricken father Karolji. There is no overstating how tough this has been on her, for she looks to Karolji as a father, coach and mentor. They share the same sunny personality as well. "It's been tough . but my dad told me that I should keep doing what I love to do. And I love to play tennis."

Monica's outside interests include modeling, acting, skating, swimming, horseback riding, basketball, aerobics and of late the guitar. Monica would like to attend college someday.
Monica has to offer us talent, style, grace, aggression and beauty. She also has the biggest heart on the tour always signing the extra autography for that zealous fan and giving us that warm and encouraging smile win or lose.
---

©

Design by Yuki Holland
holland@yours.com