It's because a fan leave a message into my guestbook, it's not good when I paste his message into here,
therefore if you don't know what was happened and why I reply this, you may go to see :)
veiw
SORRY fans, sorry for my late reply for I am so so busy this few days,
(1) I need to do a catalogue for HK electronic exhibition, have a lot of very very Urgent jobs,
(2) I should make a big company band name's design, so need to do a good project and preparation.
(3) I will go japan with my aunt, and we will not follow travel agent to go, it's a self-travel, so I need to search a lot of information before, and booking room, booking plane tickets...etc.

all your emails which I almost reply, hope you can understand me, thanks a lot :)
Martina lost is a fact, but please give her more time, just ONE year, just ONE year! not mean she is not good or others, like Sampas, he hadn't win any tournament in 2002 before US Open, before US Open, a lot people will not guess he will win, but now, all people just know to say "oh, Sampas come back, so good......etc." so, like I said before, when Martina win again, all people suddenly forget what they said before.
Life like a game, because I want to enjoy my life, I like happy life, also, I like happy tennis, Martina means "happy tennis".
Fans, even she win or lost, we should positive to support her, right?
Everytime, when know she lost, I was sad about 10 mins, after 10 mins, I need to search photos, send letter for fans, receive some fans who send me the photos and news,...and then update the website. I do it can let me happy more!! :)

"If life is a game, there are the rules"
Your friend, Yuki
11 October, 2002
---
7 th September, 2002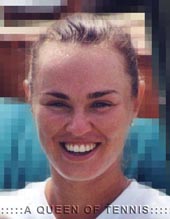 Hello, fans. sorry for over time in my work this few days, cannot reply your email immediately.
I have receive your email, thanks a lot!
yes, I know Martina lost, but I sitll trust her.
you know nowaday other players' fans feel we're crazy for still feel Martina is the best player and
feel we're no brain to love Martina, but.....

REAL FANS, please mark down, we trust our queen, when one day she win again,
all people will suddenly forget what did they say! :)
FOR REAL FANS only!
I know some fans they love Martina from 1996, when they know who is Martina when I didn't know,
I prond to know this kind of fans. and they really are real fans, because in her great time to love her until now!
this few day, I know a bad guy sent a bad email to list@hingis.org and said a lot bad for martina, he like a stupid,
I never reply this stupid guys' email, but this time, I reply to him for I really really hope say my mind to all of real fans!

now, I copy the message which I sent before, hope you agree me!
____________________________________________________________________________
you are Danny, ah ha
if you hope all of people start to attention on you, you like a stupid!
and I feel when you older more, you will feel your mind was not mature and like a 5 years old child, ok. maybe 6 years old, one more for you!

you know all fans will not angry about your wrote because all fans like martina's anything!
:: even in her what's time, they like her,
:: even she is no.1 or no. 1000, they like her,
:: even she small but skillful, they like her,

:: even have a stupid say a lot bad about her, they like her EVEN MORE!
why? you never know, because you never know what's beautiful
what's beautiful tennis?
:: not one match have 10 ACEs,
:: not fans just like her face,
:: not she is a nice person and have good temp. like Davenport (of course I like Davenport for she's a very very nice guy. Martina is not!)
but this is a tennis world, not a GOD world
A tennis player no need to have too much!

Martina have what's
she have a lot of great fans, they
:: never stop to support her,
:: never say bad thing when in her bad time,
:: never say some stupid thing in public newsgroup or messageboard.
and Martina just never pretend, emontion, skillful, wonderful and she just like said come on to herself in tennis court!!!

hope you know what's mean ":: even :: , :: not :: , :: never ::" part!
::: i always feel there isn't anything a person can't do if he tired :::
but something difficult to change,It is misunderstanding!
Martina's fans, For some real fans, it's difficult to support Martina like other players, too much unfair. but never mind,
because we are R E A L F A N S ::: :)
Danny, this smile not for you, just for some real fans, hope you not misunderstanding.

Yuki Holland
webmaster of http://www.hingis.itgo.com
____________________________________________________________________________
NON-STOP:::::::::::::::